Sage 50c
Goodbye, spreadsheets
Hello, anytime accounting.
Best-in-class desktop platform with cloud mobility.
Run your business on the go.
Sage 50c is the only desktop accounting software with anytime, anywhere cloud access, now with seamless integration with Microsoft Office 365 to give you more freedom and flexibility in how you work.
Try it Free
Easy Accounting
Track expenses, send invoices, pay employees, manage inventory, receive payments, control cash flow and prepare taxes all in one easy place.
Stay on Budget
Know, at a glance, how much you are spending, billing, and getting paid so you can stay cash flow positive.
Get Organized
Save, organize and retrieve all of your financial data – like invoices, credits, returns and more – all in one easy place.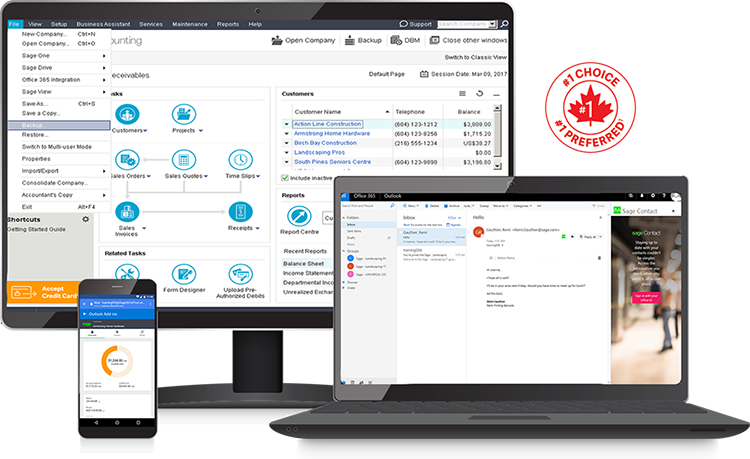 Sage Intelligence Reporting Cloud
View financial reports from your laptop, tablet, or smartphone without having to go into Sage 50. Build powerful reports with the simple drag and drop designer, or use one of the smart templates.
Cloud Back-Up
Get the security and peace of mind with automated data back-ups stored offsite, in the cloud. You can also undo data entry errors by restoring data from the cloud as of a particular date. Never again be stuck without a recent backup.
Sage Capture
Ditch the paper and never lose a receipt again. Take a picture of supplier receipts and bills with Sage Capture, save them to OneDrive and post transactions to your Sage 50c account through the Sage Capture iOS app… all from your mobile or tablet.
Spend more time on your business, less time on your books!
Sage 50c is easy-to-use accounting software for your business. You don't have to be an accountant to keep your business organized and know for sure you're ready for tax season. Built-in checks and balances make sure your financials are accurate and your information is available anytime and anywhere you or your accountant need access.
Dashboards
Keep a pulse on your business with a visual dashboard highlighting key areas of performance and stay a step ahead with a view on key trends of your revenue and budgets.
Inventory
Optimize inventory management and control inventory costs and quantities. Take it a step further and assemble items on the fly or create complex builds from stock items.
Company
Designed to meet your needs, define your sales taxes, use multi-currencies, and set up the chart of accounts the way you (and your accountant) want it done. Or use one of our many company templates to make set up a snap.
Cloud & Mobile
Make the most of your desktop accounting solution with cloud connected solutions including mobile invoicing, integrated debit and credit card payments and cloud data storage that makes working from anywhere – and collaborating with your accountant or bookkeeper – an online activity.
Customers & Sales
Manage your customer contacts and create quotes, sales orders and invoices with ease. Track customer payments, issue monthly statements and customize your forms with your logo and specific requirements. Take it to the next level with mobile invoicing from where ever you are with Sage 50c Accounting.
Project/Job Sites
Manage the profitability of your project based work and eliminate the guesswork. Fully integrated with your customers, vendors and employees modules, create budgets and track expenses, revenue and employee time against specific projects.
Time & Billing
If you're a service based business look no further. Create service items for billing purposes, track your employee's time with customers and even map that time to employee payroll. Skip the separate time slip system and go with an easy, integrated solution.
Learning Centre
Watch videos, read articles and get quick tips on any Sage 50 topic you like. Easily manage the basics of bookkeeping or become a master, it's your choice and it's at your fingertips.
Vendors & Purchases
Keep track of your vendors, pay your bills and track your purchases. Make managing your expenses even easier with bank feeds and mobile payments in Sage 50c Accounting, so no matter where you are your expenses are recorded and the headache of lost receipts is a thing of the past.
Banking
Transfer funds, make deposits and reconcile your bank account. Make the process even easier with bank feeds - skip the data entry and sort your bank transactions into Sage 50c Accounting.
Daily Business Manager
Manage your due dates, keep track of recurring entries and save time batch processing entries. The Daily Business Manager is a short cut tool designed to make your bookkeeping a breeze.
Reporting Centre
Stay on top of your financial performance with more than 93 easy to generate reports. Define timeline parameters, view Budgets vs Actuals and export to Excel®.
More ways Sage 50 can help you save time and money.
See and compare all features
Description of pricing column, here you can add details in more paragraph form.

Description of pricing column, here you can add details in more paragraph form.

Description of pricing column, here you can add details in more paragraph form.
A better way to run your business
Now that Office 365 is integrated with Sage 50c, you've got access to essential apps and accurate financials on any device from any location.
Already a Sage 50 user?
Visit our customer resources page for everything you'll need to support your Sage 50 Accounting software. From new features and add-ons to training and care plans, we have you covered.
Take Sage 50 on a test drive.
No fees, no commitment, and no credit card required.
VS Accounting Sage Certifications